Brand Damaging

I am a classically trained painter who has spent the last ten years working as a retail visual merchandiser. This intimate relationship to visual literacy, through art and merchandising, has inspired my interest in how aesthetic hierarchies can influence human behavior. I use the strategies of hierarchy of color, balance of materials, figure ground relationships, and brand/label recognition. I intentionally use fashion magazine advertisements in this body of work. It is important to deconstruct these materials while letting them keep some of their original context. Through the acts of tearing, cutting, and destroying, I create a new image or space out of these fragments. I construct everything with careful consideration of viewership in much the same way as merchandising considers the consumer. However, in deconstructing these images, I want the viewer to control the meaning of the work instead of these strategies convincing them to buy into a certain lifestyle or reality.





Space/Void 2019
New work by Berlin-based Katja Strunz and Indianapolis artist Anna Martinez - two artists whose work addresses dimensionality, culture, and constructs. Opening reception and artist talk moderated by Shelley Selim, design curtator at the Indianapolis Museum of Art at Newfields, on November 6, 2019. Presented by Indianapolis Contemporary in partnership with Ash and Elm Cider Co., Goethe Institut Chicago, and fabrication support by Ignition Arts, LLC. Exhibition photography by Anna Powell Denton.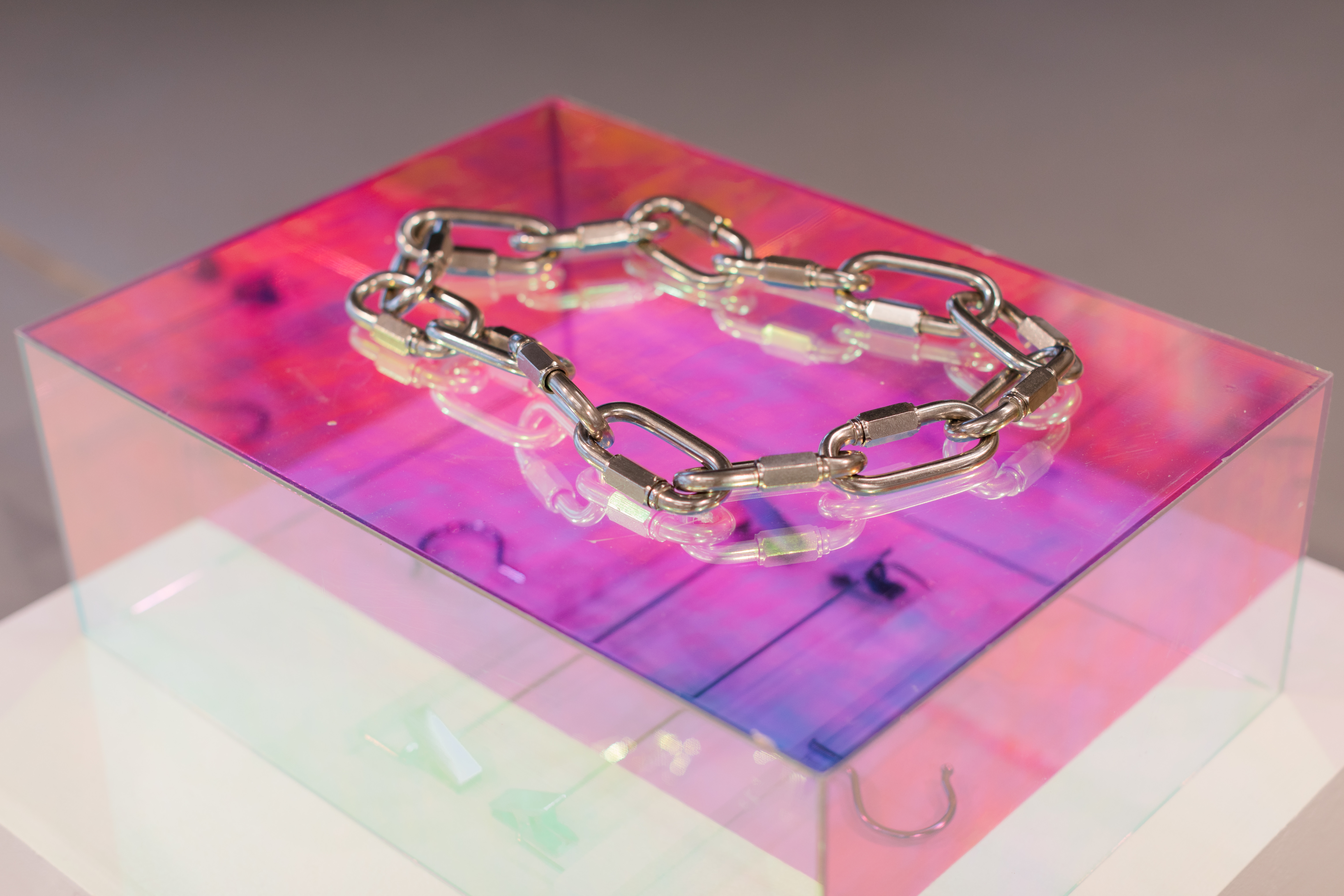 Russian Constructivism is inarguably one of the most influential Western art movements of the 20th century. Its artists were committed to construction rather than composition, a truth to materials, and reflecting the disorienting changes brought about by modern life. In the words of El Lissitzky, one of the group's most famous members: "We believe that the elements in the chemical formula of our creative work, problem, invention, and art, correspond to the challenges of our age."
Over a century later, Constructivism has much to bear on contemporary life and artistic practice. Berlin-based Katja Strunz and Indianapolis-based Anna Martinez are two such artists whose work variously engage the movement's legacies, updated for our current, and perhaps even more disorienting, moment.
Strunz takes on the spatial and temporal as key concepts in her work, with the physical act of construction and material truth as guiding principles. The folding and collapsing of her chosen medium — here, the bright, heavy metal bonnets of cars — point to Strunz's long-standing interest in the inevitable fate of objects. The crumpled, near-total destruction of vehicular elements evidences a history of motion, accident, and causation that hurls the past forward into the present.
Martinez, meanwhile, focuses her attention on commodification and the mass consumption of objects. Her installations — or, late capitalist still lifes — are a palimpsest of the visual merchandising strategies embedded in retail displays. Engaging the histories of design, fashion, photography, and architecture, Martinez's collages, sculptures, and installations are constructed through careful consideration of viewership, which is to say, consumership.
Through divergent strategies, Strunz and Martinez both participate in the discourse of our current moment––"the challenges of our age"––by producing work which deftly reflects the dynamism, anxiety, consumption, and destruction that we can't seem to stop, or, at the very least, look away from. -Text by Elizabeth Smith.
Avant-Bland 2018

The first solo exhibition from Anna Martinez, Avant-bland showcases new paintings and small sculptures by the artist. Hosted by Cat Head Press: Printshop and Artist Coop, the exhibition ran for the month of September 2018.




In Avant-bland, artist Anna Martinez creates muted paintings that reference or exist more as minimalist sculptures than they do as paintings with their bold form and assertiveness. Martinez renders popular painting tropes such as still lives and landscapes into abstract lines and shapes to further examine the history of painting.


Non-Image Objects 1-4 2016

Installation view from "The Future Past" an exhibition curated by Anne Surak (Art+Space) at the Historic Central State Hospital in Indianapolis, IN, featuring artwork that responds to its environment and the building's history. Exhibition ran from May 7th-June 4th 2016. Exhibition photos by Tad Fruits.




Light is an important component in our memories. The brighter the image is in our mind, the easier is it to remember. As our memories get lost, we find that it is difficult to form an image of a certain time or place. Anna Martinez's work delineates the point between still image and physical object. The paintings on each piece do not attempt to form an image from the source of light; they merely reveal the transfer of light between the source and the target. These non-image objects expose the subtle changes in the light over time and are influenced by the surrounding architecture. They cannot be connected to a certain time period or place, but are constructed with familiar materials.


Jagged Edge for Pattern Magazine 2016


Styling and set direction: Copy Culture Studio (Taryn Cassella and Anna Martinez)
Photography: Christopher Whonsetler
Make Up: Kelly Oswalt
Models: Benjamin and Janneane Blevins